Gujarat: Vijay Rupani said, on May 1, Foundation Day, people above 18 years of age will get free vaccines
Corona Vaccine: On May 1, Gujarat Foundation Day, people over the age of 18 will be vaccinated with Corona in 10 districts of Gujarat. Chief Minister Vijay Rupani, while addressing the people of the state through Internet media on Friday, said that in the battle of Corona, the government is fighting jointly with the social organization and the people, and in this, we will definitely become the winner. The Gujarat government has ordered two crore vaccines to the Serum Institute in Pune and 50 million vaccines to Bharat Biotech to administer the vaccine free of cost to the people of the state. All these vaccines are indigenous, manufactured by Indian companies.
In the districts of Ahmedabad, Surat, Vadodara, Rajkot, Jamnagar, Bhavnagar, Kutch, Mehsana, Bharuch, and Gandhinagar, people above 18 years of age will also be vaccinated free from May 1. For this, registration on the website created by the government is necessary. Registration will not be available at the vaccine centers. The Chief Minister said that after registration, an SMS will be sent to the registered mobile number, only then to go to the vaccine center to get the vaccine. Vaccine centers prescribed by the government should be vaccinated only at all government hospital clinics and Kovid-19 centers. 
Earlier, Chief Minister Vijay Rupani held a meeting with top officials of the Health Department, in which Health Department Principal Secretary Jayanthi Ravi Health Commissioner Jai Prakash Shivhare National Health Campaign and Mission Director Mukesh Pandya of Gujarat were also present.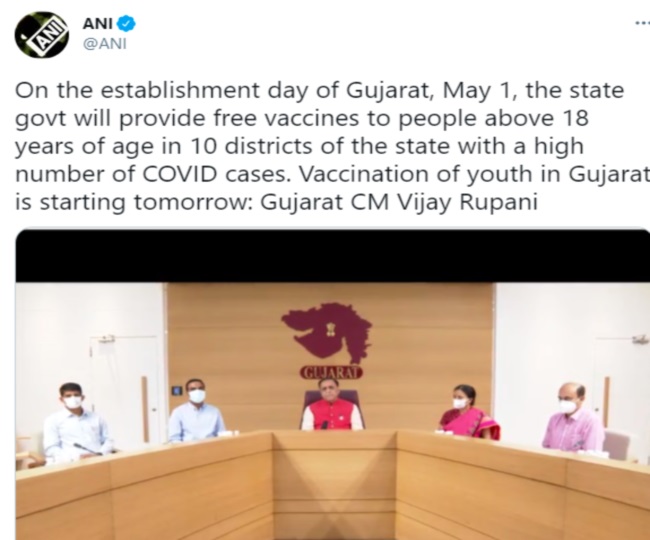 Here, 14327 cases of the corona were reported in the last 24 hours in Gujarat. 9544 people were discharged and 180 people died. The total cases are 5,53,172. There were a total of 4,08,368 discharges. The active cases are 1,37,794. A total of 7,010 have died. The total immunization has been 1,19,22,841. New cases are coming up in many districts of the state.