Bangladesh actress Pori Moni released from jail after 26 days, got out of the car and greeted the fans
Popular Bangladeshi actress Pori Moni was on Wednesday released from jail after 27 days, a day after she was granted bail on a surety of Taka 50,000. He was granted bail 21 days after the petition was filed. A High Court bench of the Supreme Court strongly condemned the role of trial court judges in granting multiple remands to the actress in a case under the Narcotics Control Act.
Shamsunnahar Smriti alias Pori Moni was arrested on 4 August during a raid by the Rapid Action Battalion, and brought to a magistrate's court in Dhaka after the expiry of her four-day remand.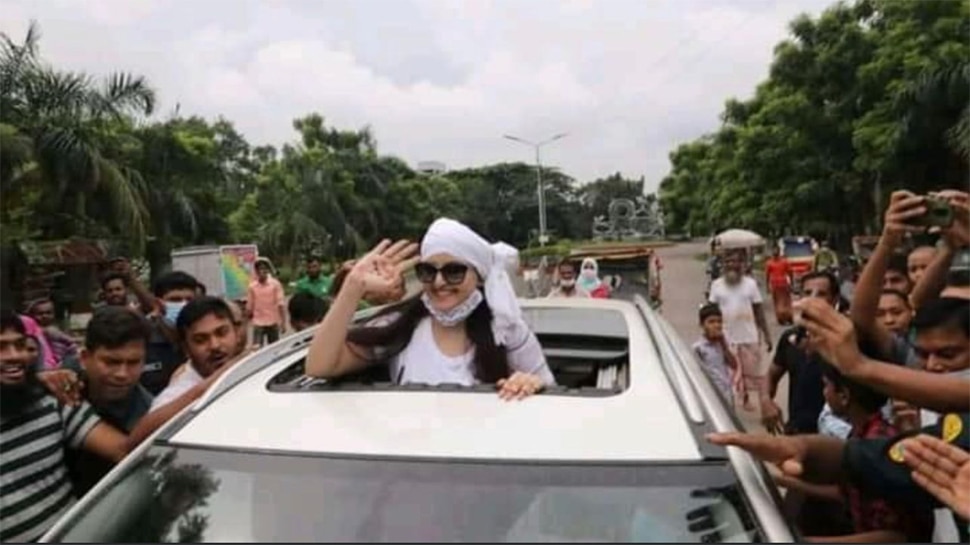 In their observations of the remand orders of the lower courts, Justice Mustafa Zaman Islam and Justice K.M. Zahid Sarwar said, this cannot happen in any civilized society. Remand is an exceptional case. What evidence did the investigating officer produce along with the remand petitions and why the court granted the remand needs to be investigated. 27 days in captivity Pori Moni spent seven days on remand.
A smiling Pori Moni was busy taking selfies after coming out of jail on Wednesday. He also gave an open palm salute displaying the words and symbols engraved with mehndi. With juicy gossip being published regularly against Pori Moni, a petition was filed by a lawyer on 25 August, seeking a direction to the High Court to direct the government to remove the reports, videos and photographs, Which was insulting and character assassination to him. Earlier on August 21, Pori Moni had appealed to her lawyers in the open court to file another bail plea after the third remand was over.
Why doesn't anyone plead for my bail? I will lose my sanity.. please ask for my bail. At the same hearing, Pori Moni's lawyers urged the court to allow them to speak to the actor, but the Dhaka court refused permission.
On 26 August, the High Court issued an order, seeking an explanation as to why the trial court heard Pori Moni's other bail plea 21 days after the petition was filed, treating the delay as curtailing the rights of the accused. I told. Later the Ain o Salish center stood up to Pori Moni and questioned the validity of the remand order against Pori Moni several times, and the High Court held that the court could not grant remand just because it was asked to do so. Was.